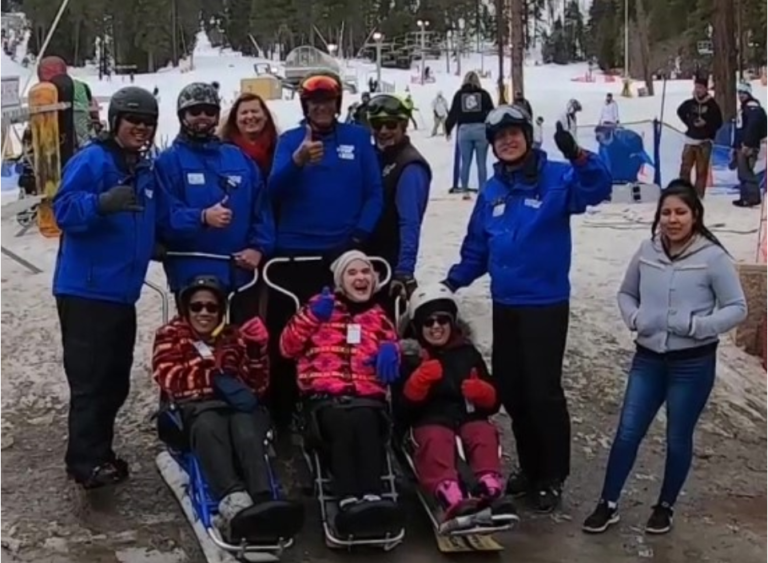 Mountain Shadows Residents: Living the Impossible Through Adaptive Skiingby Sheryl Wilde
"My motto is: 'Living My Impossible Every Day.' Imagine what it's like to
ski down mountains at 70 miles per hour. Now imagine what it's like to do
that blind. That's what I do."
~Three-time Blind Paralympian Danelle Umstead
"Are you ready to go play?"
"No! Noooooo!" There was a sense of panic in Annie's voice as she sat, buckled snuggly into her bi-ski, looking down the hill, her ski instructor behind her.
Annie, who is non-ambulatory and uses a wheelchair, lives at Mountain Shadows Oak house.
She watched for a few minutes as some of her Mountain Shadows friends hooted and hollered with pure joy as they carved their way down the slope.
Then, as she finally began her descent, her "No!" quickly turned into excited exclamations of "Wheeeeeeee!" as she raced down the hill.
Annie lived "her impossible" that day on the mountain thanks to funding from the Mountain Shadows Foundation.
"Our residents have been going to the Mountain High Resort for many years," says Vickie Perdaris, Activities Director "They have the best adaptive ski program in Southern California. They treat our residents like kings and queens."
Located in the Angeles National Forest, t he Mountain High Resort offers skiing, snowboarding and snow tubing for people of all abilities. Their adaptive ski program serves individuals with a variety of disabilities, including those who are blind and/or deaf, quadriplegics, amputees, and those with cognitive and/or physical disabilities.
Skiing and snowboarding provide a sense of freedom that is difficult to duplicate in other sports. It helps to develop balance, fitness, confidence, motivation, and social skills.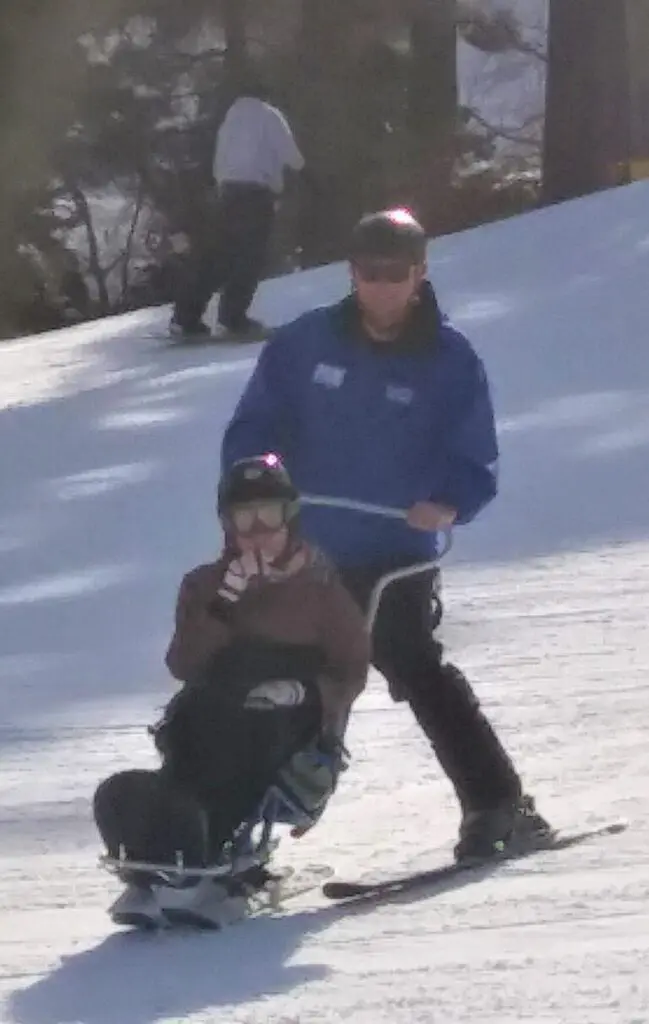 "Sit-skiing also develops core strength," adds Vickie. "Tony from Spruce house sit-skied for the first time this year. Just before he went skiing, he was slumping in his wheelchair. But when we got him out of the sit-ski and put him back in his wheelchair, he was sitting up by himself with no chest strap! He sat up by himself at lunch too. That was so exciting! Skiing develops core strength, just like horseback riding does. And Tony ate a huge lunch. He can't walk or talk, but he was getting exercise. After a day on the slopes, he was hungry and he was sitting up by himself." Bob Mourino, Supervisor, and first point of contact for the Mountain High Adaptive Program, says, "Mountain Shadows is the base of our sit-ski program. We look forward to seeing them every year. I'd like to think we make a difference in their lives.
"We take our Adaptive Program very seriously. Our instructors are all certified by the Professional Ski Instructors of America (PSIA) and/or the American Association of Snowboard Instructors (AASI). We're in compliance with all ADA laws. Some mountains have no certified adaptive instructors or they have volun teers. They have good intentions, big hearts, but they may or may not be qualified instructors. Everyone at our program is adaptive certified and paid staff."
"Mountain Shadows brings students to Mountain High every week. It's always the highlight of the week," says Terry Bottorff, Adaptive Resort Trainer and Director of Snow Lessons.
"We have eight Level I Certified Adaptive Instructors. Bob and I are Level II Adaptive Certified. It takes 3 to 4 years to get to Level II."
Terry has been at Mountain High for over 20 years. "My son was born with Cerebral Palsy and was blind. Doctors said he wouldn't live 3 years. He lived to 20. He lived in a state-run facility. That was the way it was then.
"Now, every time I go on the snow with the Mountain Shadows folks, I say to myself, 'Okay, this is for my son, who I didn't get to do fun things like this with.' Lots of instructors have someone in the family with disabilities. This is a way to give back, or to pay it forward.
"When the van from Mountain Shadows comes, we pick up the students in the "mule" and drive them up the hill to the cabin. We determine their needs in terms of equipment – foot/waist/chest straps, helmets, goggles, everything to ensure their safety. Mountain Shadows has a couple of very animated students, like Karen. She's a crack up. She talks constantly. We can hear her talking as she comes up on the mule. She always wants to go faster down the hill. She says, 'Let's go over there!' She's just one of the fun, lovely personalities that's so fun to have around.
"I remember one Mountain Shadows student from several years ago. She couldn't talk, but we learned from the staff that she loved hula dancing. So she could move her hips. So we thought, 'Let's use that. Let's make that motion!'
"So, we'd have one of our instructors skiing backward down the mountain, doing the hula on skis. And she could follow along, rotating her hips like in the hula, in the bi-ski! It was amazing. We try to be creative with them.
"Sometimes, one of the students is crying, or scared. Maybe yelling or screaming. So, we comfort them. We take it slow. Some cry on the chairlift, but when we get them off and start down the hill, they quickly go from crying to laughing. To see them laugh and giggle, that's rewarding. That's why I keep doing this. It's not monetary. It's rewarding to watch someone have fun."
While fun is always part of the day's agenda, true success goes much deeper for Terry and Bob.
"I've been working with a lady in her 70's, who is paralyzed from the waist down, for two years," says Terry. "At first, all she could do is ride down the hill with me steering. Now we load her on the chair lift and it's to the point where she comes down the hill on her own. She's totally independent. We push her and she pushes herself so that she learns more.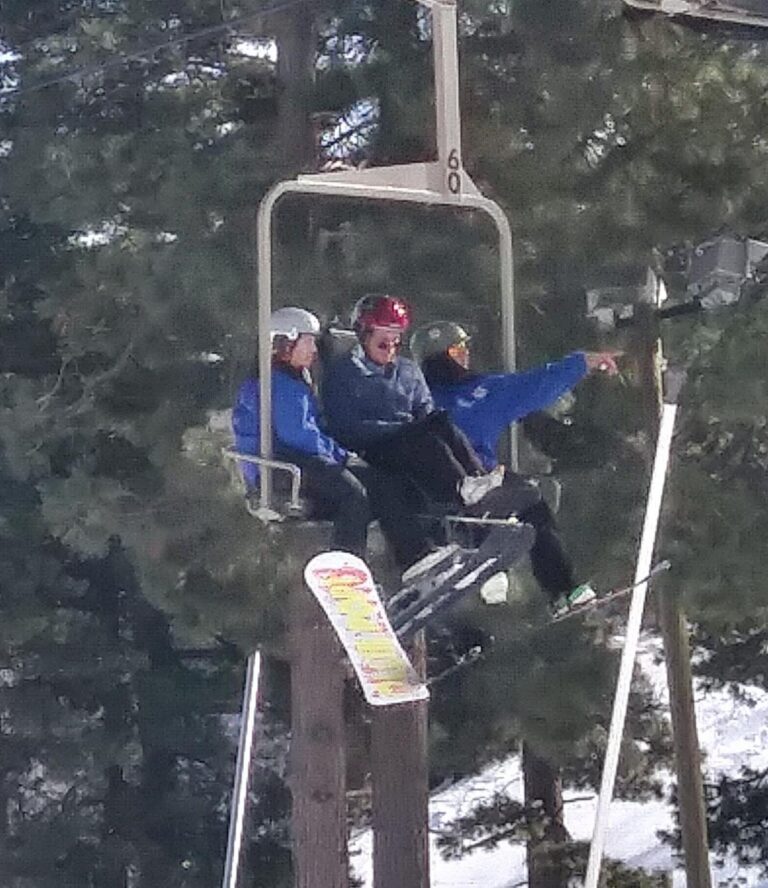 "She became independent! That's success. That's extremely rewarding." Bob shares a similar experience: "I've been working with a young man. He's 41 now and he comes to ski every week. He was in a horrific car accident in his teens and has been living in a group home. He couldn't stand unassisted.
"But now he can snowboard!
"We found a way to put a walker on skis, and he stands on that with assistance. He knows he has to stay in shape and he works at it so he can come here and go snowboarding. Now he can stand, and pivot, and put his bottom on the seat. He couldn't do any of this 5 years ago.
"We learn something every day. We learn something from every student. We watch and learn from each other and we all become better because of it."
Whether carving their way down a mountain slope, or participating in one of our many other adaptive activities, our Mountain Shadows residents are living their impossible every day.
Experience adaptive skiing through the eyes of
Mountain Shadows' Oak House resident Annie:
When you donate to Mountain Shadows Foundation, you make special activities like adaptive skiing possible for Mountain Shadows residents!
Stay Connected