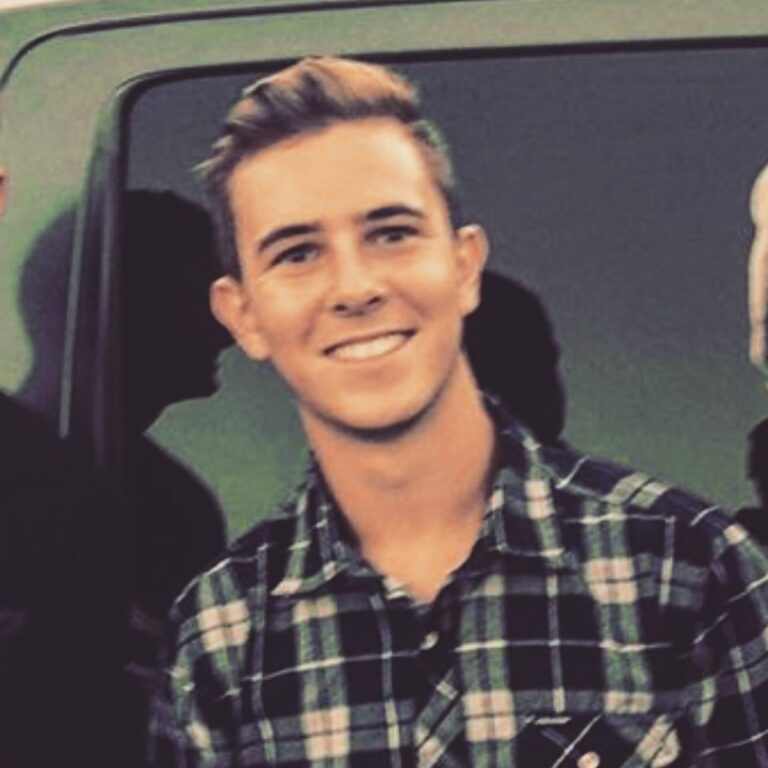 Mountain Shadows Volunteer Highlight: Austin Nager – Physical Therapy Aide
by Sheryl Wilde

"What is the worth of anything we do? The worth is in the act. Your worth halts when you surrender the will to change and experience life."
~ Christopher Paolini, author of Eragon
Austin Nager wants to help people change their lives for the better. As an aspiring Physical Therapist, his dream is to help others manage their pain, improve their ability to move, and return to and maintain an active lifestyle.
As a Physical Therapy Aide volunteer at Mountain Shadows, Austin is learning, hands-on, exactly how to do just that.
"Austin wants to get all the experience he can," says Jan Spain, Physical Therapy Consultant for Mountain Shadows since 1985. "He's a delightful young man. His uncle has Down's Syndrome, so he's used to being around the disabled, which can sometimes be overwhelming to others."
"My uncle Jimmy has Down's," says Austin. "He's my mom's brother. He's always been a big part of our family. He has the biggest heart. He's always been involved in everything in our family. Always."
Stacy Sullivan, Director of Operations, Mountain Shadows Support Group, knows Austin well. He's her brother-in-law's, sister's son. "We grew up together. We're very close.
"Austin's wanted to gain more experience in the physical therapy field, to volunteer. He recognized that he needed more experience. The connection with his uncle, and working with our Mountain Shadows population, made it a great fit. We benefit, Austin benefits, and our community benefits. He has a passion for this and is excited to give back."
"As I matured, I began to talk to other people who hadn't had the privilege of knowing the disabled as I had growing up. My uncle taught me to find common ground with everyone – even those you wouldn't think you had anything in common with.
"Uncle Jimmy gave me an appreciation for everything. He was born with a 1 chromosome difference, by chance. He is one of the most loving people I know."
"Physical therapy for the disabled is unique," says Jan. "They have varying levels of cognition, abilities and needs. We look at the whole person, not just a knee or a shoulder."
As a Physical Therapy Aide at The Training Room in Poway for the past two years, Austin has focused on sports medicine for athletes and an active population.
Says Austin, "I've come from a very active community to Mountain Shadows, where most individuals are in wheelchairs. A good portion of Mountain Shadows clients have cerebral palsy. There's lots of spasticity, the muscles are contracted and rigid, which inhibits range of motion.
"For example, I was with Jan, observing one client with CP. Jan needed to do a hip range of motion test. In an ideal world, the client would sit on the table so the PT could perform this test. This client, and many other Mountain Shadows clients, can't do that."
"Austin helps to brainstorm ideas," says Jan. "How can we most safely get a client transferred from their chair to their bed? He's learning about our population, learning about special equipment, like Hoyer Lifts and overhead trapeze bars. It's a very unique experience."
"I love working with the Mountain Shadows residents," adds Austin.
Austin holds a degree in Exercise Science from the University of Texas, with an emphasis on Kinesiology, in the physical therapy field.
In addition to his studies and work experience, Austin loves reading fantasy books. The 500-plus page book, Eragon, by Christopher Paolini, opened his imagination in the sixth grade – and he's been an avid fan ever since.
Prior to his experience at Mountain Shadows, he hoped to go into sports medicine. That may still be his ultimate goal, but now he's also curious about neonatal care.
"I brought Austin along when I visited one of my pediatric patients," says Jan. "It was an 18-month old girl with Down's. So he got to see the progression from a disabled baby to an adult – what is important as a disabled person ages?
"At our first session with the little girl, Austin got to see her sitting on the floor, but not moving. The second time, she was moving on the floor and pulling up to standing. She recently started to walk. For an 18 month old with Down's, that's very good. She was very excited – so was Austin."
"I'm the youngest in my family," says Austin. "So I'm not used to being around babies. Watching Jan work with this little girl was a great experience. It was a blast seeing the smile on the little girl's face as Jan worked with her."
"Austin has such a positive attitude. It rubs off on the clients. He's very encouraging to the residents – and the ladies really like him.
"Austin will make a great Physical Therapist someday! I hope to be able to give him much more experience with the residents at Mountain Shadows."
As Christopher Paolini said, "The worth is in the act." And we thank you, Austin, for your acts of kindness in supporting our Mountain Shadows residents.

To make a difference in the lives of the intellectually disabled individuals
Mountain Shadows serves:
Stay Connected