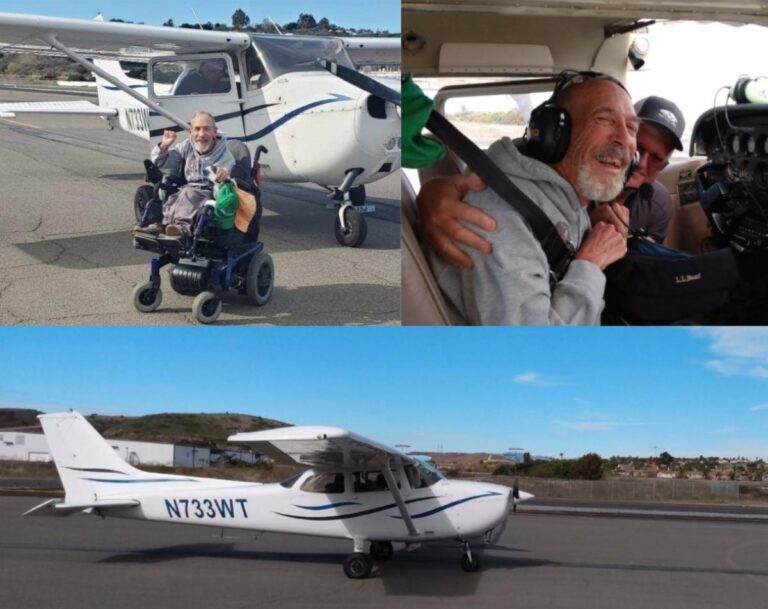 Brian Stafford experiences flight with Board Member Don King
On a Wing and a Prayer, Someday Dreams Come True

by Sheryl Wilde

The prayer began:
"Thank You, God, for this time we got to have a someday."
It has been said that a dad is a son's first hero. Certainly, that was the case for Brian Stafford of Mountain Shadows Willow house. His dad was a B-17 bombardier in World War II. And Brian's childhood was filled with stories of flight and the honor of serving our country in "The Flying Fortress", which became legendary for bringing its crew home despite extensive battle damage. General Carl Spaatz, Commander, US Strategic Air Force in Europe, 1944, once said of the warbird, "Without the B-17, we might have lost the war."
And oh, those stories, they fueled Brian's imagination! His dream, from childhood, and into adulthood, was to fly – soaring above even the eagles – free and proud as his father had… someday.
Someday …
Brian's someday came, after more than six decades of dreaming, thanks to our Mountain Shadows Board Member, Don King.
"I met Brian many years ago," says Don. "He came to the Beyond Limits Church services at Mountain Shadows. We started hanging out together and it got to the point where we became brothers.
"For the past several years, I've gone with him to the Riverside National Cemetery to put flowers on his dad and mom's graves.
"One day, I happened to mention I'm a pilot and Brian's eyes just lit up. He gave me that big 'Brian' smile, pointed his finger at me, then pointed it upward toward the sky and nodded his head.
"I learned to fly in 1980, but I haven't flown much over the years. But from then on, each time I saw Brian, he gave me that smile, pointed at me, then pointed up.
"After lots of Brian's gentle pointing, I decided last year to gain some flying currency back. And I said to Brian, 'Someday, we're gonna fly!'
"Well, talk is cheap, so last fall, almost 40 years after I got my license, I became current again. And the next time Brian smiled and pointed, I winked back and said, 'When do you want to go? Let's do this!'
"We went up December 18th, from the Oceanside Airport. I was standing by the plane when they pulled up in the Mountain Shadows van with Brian. When he saw me, he just lit up.
"We flew to Fallbrook, Temecula, Murrieta, and over the mountains. And Brian had a huge grin on his face the whole time.
"When we landed at the airport, I said, 'Why don't we go inside? I think they have ballcaps with the Oceanside Airport logo on them.' So we walked and rolled in there intending to buy a baseball cap – but, as we looked up, we saw there was a huge B-17 model hanging from the ceiling!
"Brian saw it and pointed and winked. It was just outstanding! I had no idea beforehand that model was hanging there.
"I looked up and said, 'Why don't we say a prayer?' And, standing under the B-17 model, we bowed our heads, and I said:
"Thank you, God, for this time we got to have a someday, so that Brian could feel a little closer to his dad, and experience the gift of flight like his dad had in WWII."
"And I thought, 'Hey, maybe learning to fly way back was just part of the plan for Brian and I to fly. You can't be sure when opportunities cross your path. Maybe something I learned to do 40 years ago might have been meant for today.
"Most people don't ever do their 'someday' dreams. And to do something 40 years after the fact, with a really good friend, who in some eyes might possibly seem limited. How cool is that? Brian's light shines as bright as anyone else's. Anything is possible! He can be like anyone else and go for a ride."
When asked about his relationship with Don, Brian gets emotional, "Don is a very nice guy. He does a lot for me. He's very special."
And about the experience of flying he said, "Hey, I felt kinda like my dad out there."
Yes, someday dreams come true.
"Oh, I have slipped the surly bonds of earth,
And danced the skies on laughter-silvered wings;
Sunward I've climbed and joined the tumbling mirth of sun-split clouds –
and done a hundred things You have not dreamed of –
wheeled and soared and swung high in the sunlit silence.
Hovering there I've chased the shouting wind along
and flung my eager craft through footless halls of air.
"Up, up the long delirious burning blue
I've topped the wind-swept heights with easy grace,
where never lark, or even eagle, flew;
and, while with silent, lifting mind I've trod
the high untrespassed sanctity of space,
put out my hand and touched the face of God."
– WWII Flying Officer Fred Jones
To make a difference in the lives of the intellectually disabled individuals
Mountain Shadows serves:
Stay Connected