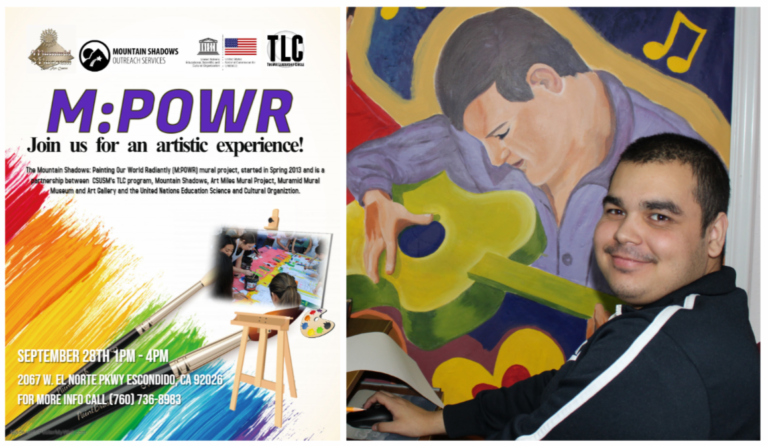 Ivan Rodriguez and the first flyer he made for the M:POWR program.
New Job Holds POWR for Tailored Day Program Participant
by Sheryl Wilde

That's M:POWR to be exact.
Selected for an innovative, FDD (Foundation for Developmental Disabilities) grant-funded position, Ivan Alvaro Rodriguez, now holds the position of M:POWR Community Arts Assistant for Mountain Shadows Outreach Services Adult Day Program, where he supports the Mountain Shadows Painting Our World Radiantly Program (M:POWR) under the tutelage of Dr. Joanne Tawfilis, founder of the Art Miles Mural Project, owner of the Muramid Mural Museum and Art Gallery and representative of the United Nations Educational, Scientific and Cultural Organization (UNESCO).
The Art Miles Mural Project's vision is to promote global peace and harmony through mural art. One of the central premises of the project is this: No matter what our differences, we are all part of one world.
Mountain Shadows Outreach Services is honored to partner with The Art Miles Mural Project to add the voice of the intellectually disabled to this global message of hope and unity.
"Ivan has been a participant in our Tailored Day Program for some time now," says Cecilia Bello, Community Services Program Director. "He expressed an interest in learning about graphic design for video games. I mentioned the new Community Arts Assistant position to him as a good place to start. He submitted his resume and got the job!"
"I love Japanese Anime. I've been watching it since I was a kid," says Ivan. "I have a sketch book and have been learning how to sketch on my own. I also have an interest in computer science, 3-D animation, and digital art, so I see this position as a first step toward learning more about art as a whole and to improve myself as a sketch artist.
"I also have an interest in YouTube animation, video game design, and cartoon animation. This will be a great learning experience!"
Adds Arlene Galvan, Director of Program Development, Mountain Shadows Ancillary Services: "The FDD Grant will fund Ivan's part-time position for the next two semesters. This is Ivan's first job ever. He's very bright and has very positive energy. He wants to experience working for an organization in a supported environment."
As the Community Arts Assistant, Ivan will coordinate the M:POWR Program with the California State University San Marcos Tukwut Leadership Circle (TLC), facilitated by Dr. Shannon Nolan-Aranez. Students from TLC volunteer their time and talent to M:POWR projects each semester.
Designed to inspire emerging leaders, the TLC program provides students opportunities to explore leadership concepts through real-life experiences. A central element of the TLC program is to foster leadership development through civic engagement. The M:POWR Program partners artists, students, and Mountain Shadows participants in painting large murals that transcend barriers, promote social and cultural understanding, provide civic leadership opportunities to TLC students – and bring joy to the hearts of all involved.
"We are honored to be a part of the M:POWR Project," says Shannon. "I think our students benefit more than the Mountain Shadows participants. They learn to be better human beings. They learn that just because someone is disabled, they are not to be pitied or judged."
Ivan will work with participants and TLC students at M:POWR events, create marketing materials, present program goals at TLC orientations, and help coordinate the Annual M:POWR Art Auction.
"Since this is my first official job, at first I was very nervous," says Ivan. "I thought, 'What if I don't fit in? What if I stand out? What if I make a mistake?' But everyone was very helpful and friendly. That really helped me feel more at ease. Now every day, I'm happy when I arrive at work.
"I am excited to be among great coworkers, participants and the students of Cal State San Marcos. So far I enjoy everything I do. I enjoy helping out. I enjoy just being of help, of use, there. It feels really nice to feel useful."
The Mountain Shadows' M:POWR Project – M:POWR-ing Mountain Shadows' participants, like Ivan, in life – through art.

To make a difference in the lives of the intellectually disabled individuals
Mountain Shadows serves:
Stay Connected