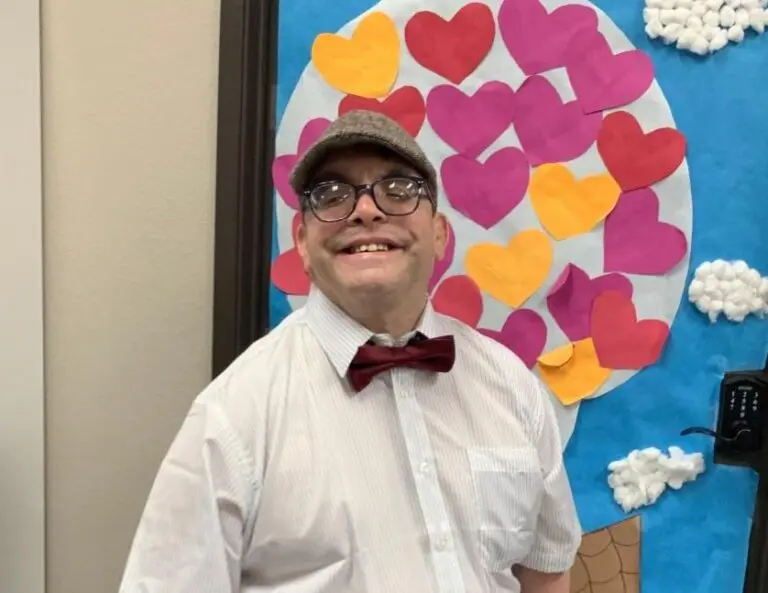 Manny Flores Makes Smooth Transition
into New Beginnings Program
by Sheryl Wilde
A pounding, edgy beat vibrated up from the floor into the feet.
Aaow!
Annie are you okay? Are you okay Annie?
Images of Michael Jackson, in white suit and fedora, doing the anti-gravity tilt, stirred in Manny's imagination as the sounds of Jackson's Smooth Criminal filled the room.
Annie are you okay? Are you okay Annie?
Aaow!
"Come on, Manny! Let's do the moonwalk!" Physical Therapy Assistant, Satoko cranked up the music and started dancing.
"No! I can't." Manny, Mountain Shadows New Beginnings' participant, was scared. "I'll fall!"
Satoko quickly stepped back, giving him space. "Okay, maybe we can just listen?"
They listened for a while together, just enjoying the music.
Annie are you okay? Are you okay Annie?The beat was relentless. Hypnotic.
After a while Manny began to relax a little. Satoko and another staff member started dancing, using very small movements at first.
"Manny has trouble with walking and balance, so we have been working on gait training. Sometimes he just wasn't into it. So, I thought, 'Let's be more creative!' I knew he liked music and liked to dance."
"Manny was one of our first New Beginnings' participants," says Donna Heard, Program Director, Mountain Shadows New Beginnings Therapeutic Day Program. "He has a history of being very violent. He was among the last group of individuals moved out of the state institution when it closed down.
"He was kept in wrist to waist restraints there. He has deformed wrists because of it."
Annie are you okay? Are you okay Annie?
"Manny was born with an extra chromosome 17," says his mom, and Regional Center Board Member, Maria Flores. "His condition is extremely rare. There's only one other case in the U.S. that we're aware of. He's been aggressive since the age of three. I'd hug him and he'd bite me.
"As he grew up, there were daily fights – about anything. When he was at home with us, his family, he was so aggressive. It eventually came to a point where it felt like it was him or us. I thought he would end up in jail or someone would be seriously hurt.
"It became a matter of safety for everyone. He was placed in several community homes. He destroyed three of them.
"At the state institution, when he was aggressive, the staff would try to talk him down. At one point, there was an incident and he was injured, almost to the point of dying. He was in ICU. There was internal bleeding. He developed blood clots. There was damage to his femoral artery. Now he has trouble walking. His leg can't bend well.
"It was a two-month stay in the hospital. We didn't think he would come out. It was very serious."
Will you tell us that you're okay, Annie?
Adds Donna, "Manny has many scars from years of abuse and violence. He was kicked in the stomach, has blood clots in one leg, and is blind in one eye due to the violence.
"Reports from the institution indicate he was responsible for multiple incidents of physical assault, property destruction, and seizure-inducing, self-injurious behavior. He made holes in the wall, pulled out baseboards, and slammed himself into walls and onto the floor.
Annie are you okay? Are you okay Annie?
You've been hit by … you've been struck by …
A smooth criminal …
"New Beginnings is supporting the last group of individuals moved out of the state institution. They have very complex needs. For this last group, there was nowhere in the community for them to go. We're carving out new services for them. What's unique about us is that we allow them to have positive control in their lives. Before life was happening to them. We like life to happen through them.
"We lean in with compassion and sensitivity. We want to be the anchor, their calm in the storm. We give them the opportunity to make choices. Others providers just say no and restrict access. We increase access and celebrate successes.
"Manny had never been given a choice before. He was just told, 'You can't have it!' Then he wanted it even more and started screaming.
"We see Manny with fresh new eyes. We don't see only his behaviors, though he doesn't have many now. He shows no aggression towards others now.
"We model behavior, without telling him 'no'. We model behavior and he embodies what we do. Now he's a different guy. He's been given the opportunity to do well. Now he's a great self-advocate and he's a resource for others. He's very sensitive to rights, since his were violated for so long.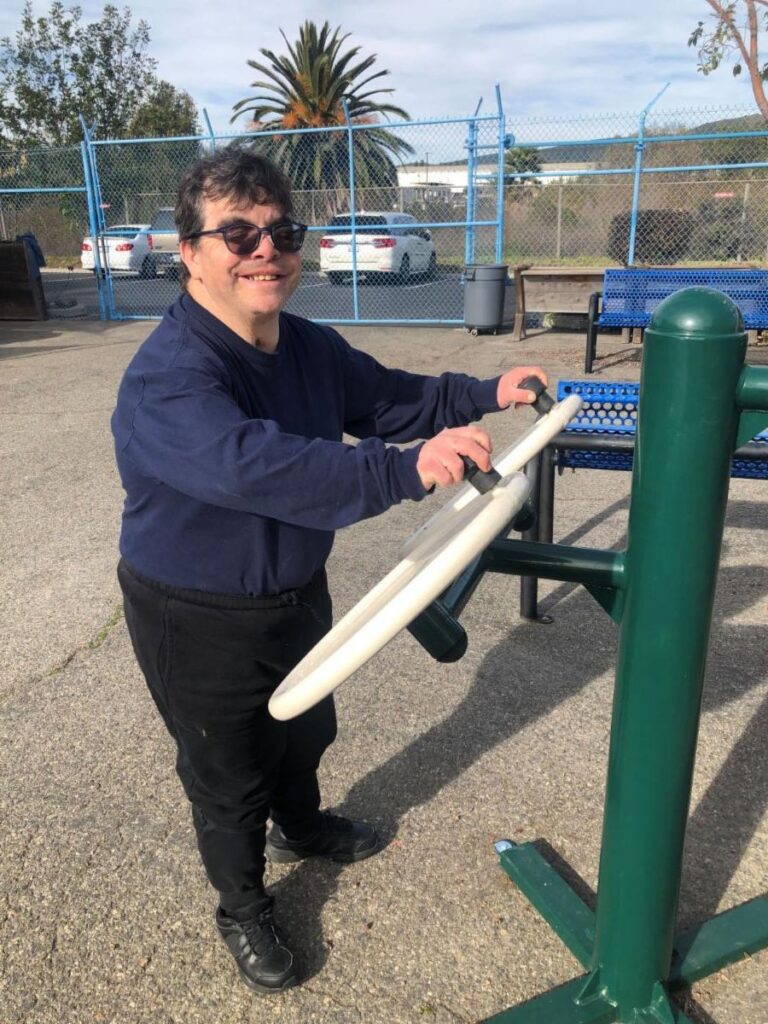 "We keep driving the good – what helps people thrive and live meaningful lives."
Liesl Herzberger is Manny's Occupational Therapist. "We're working on self-regulation, and lots of redirecting. We work on the timing of conversations and when to tell someone his thoughts. Sometimes he'd scream across the room. He's doing much better now. Now he waits to get close to the person. He's doing exceptionally well.
"New Beginnings is more compassionate, more participant-centered than any other place I've worked. Everyone at New Beginnings cares. At some other places, people are just doing their job. Here it's not a job. We all do our best to do everything with more heart. That comes from Donna and her passion for the program. She gives it her all to understand the participants."
"Manny loves New Beginnings," adds Maria. He looks forward to going there. Donna and all of the staff members, they like him. I give them a lot of credit. They have little angels around them.
"New Beginnings helps me feel secure for Manny's future."
Annie are you okay? Are you okay Annie?
Satoko turned the music up a little and she started really getting into the dancing. Laughing. Really having fun.
Then … "Oh, okay!" Manny stood up. He was shaking.
"He was so afraid. So nervous," says Satoko. "But he did it! He started walking backward. This was HUGE for him. Both of his feet normally cross over each other. But not on that day. He had dancing feet!!! He didn't cross his feet and he did great! Wow! Everyone had tears in their eyes. It was a big moment for him – for all of us.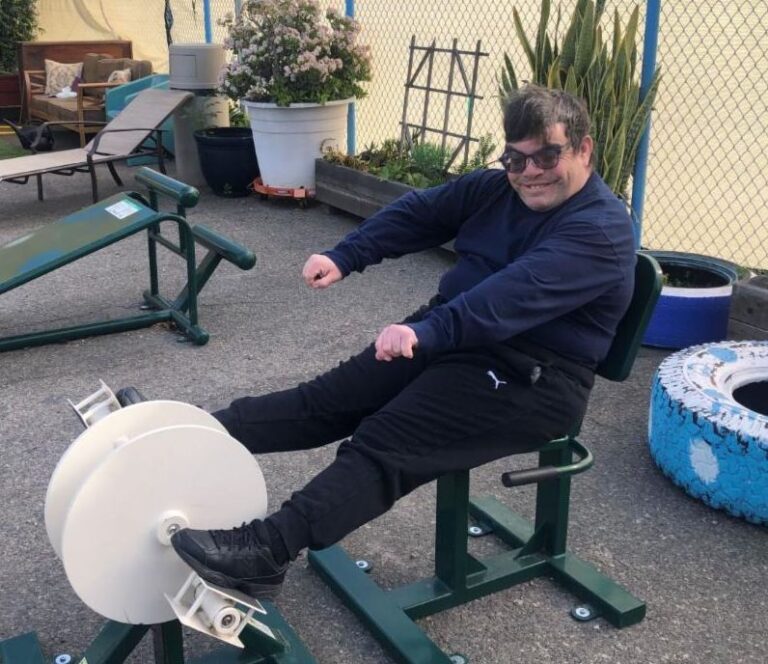 "We just love Manny so much. I enjoy working with him so much. I'm so happy to see the improvements he's made. Even a little step. Sometimes it's not big. It's tiny. But I love to see that. It brings me happiness.
"Manny is such a great person. His heart is really, really warm. He cares about other people."
Adds Kiana Sadrieh, Owner of Keneks Therapy, "Manny is an amazing and fast learner. He's an absolute joy to work with. He's made great improvement across the board. It's great to see him thrive.
"And I can't say enough about New Beginnings and Donna. I've been in the industry for a long time. I've never been a part of something like this before. I've never seen a staff like this that works together so well and is so dedicated to the participants. That's the only thing they're concerned with – the participants.
"It's an amazing program. It deserves attention. Everyone should know about it."
"Some of the staff from the state institution visited Manny at New Beginnings," says Donna. "They were shocked at how well he is doing. I think that says a lot about our program. A lot."
Manny are you okay? Are you okay Manny?
You've been hit by … you've been struck by …
A smooth criminal …And now, Manny, we believe, thanks to the loving care received at Mountain Shadows New Beginnings Therapeutic Day Program, the days of violence and abuse are gone.
And we know …
Manny you are okay. Manny you are okay!
Aaow!
When you donate to Mountain Shadows Foundation,
you help advance the programs and services of
Mountain Shadows Support Group and Mountain Shadows Ancillary Services,
and help individuals with intellectual disabilities thrive.
Stay Connected