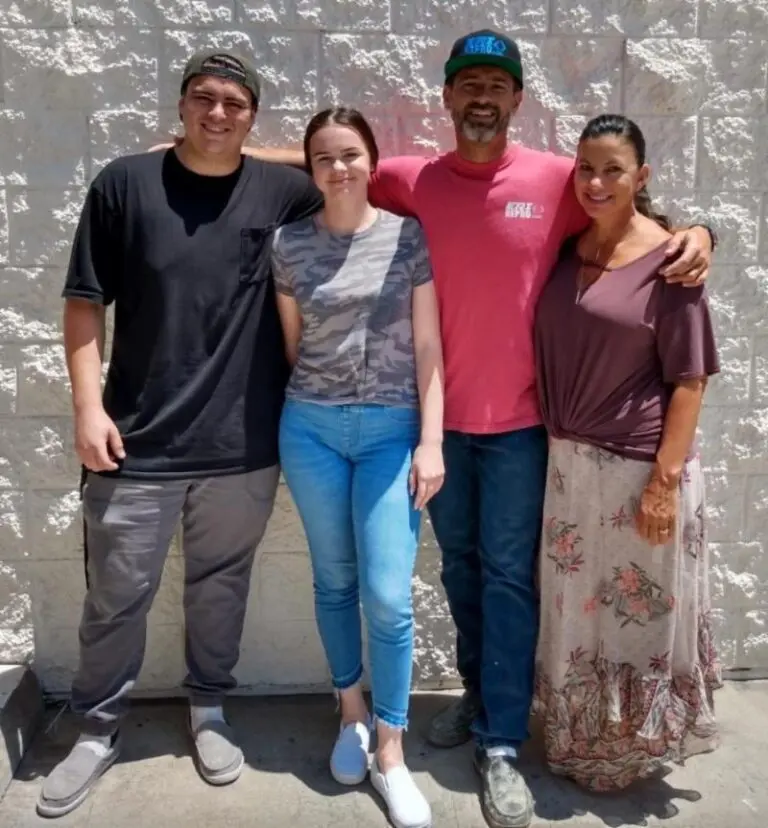 The Knowles Know It's All About Making Good Choices
by Sheryl Wilde

"Mom, do you mind if I stay in the back and hand you things?"
Rupert (Rip), Missy's young son was nervous. His sister, Roxy, then in 5th grade, needed service hours for school and she had volunteered their family to visit Mountain Shadows on Christmas.
"During that first visit, when we were all decorating Christmas cookies with the residents, Rip stayed in back and handed me things," says Missy Knowles.
It was the young boy's first time being with the disabled.
Roxy has graduated from high school now and still – all these years later – the family continues to volunteer at Mountain Shadows. "We were so touched during that first visit. We loved everything about it."
"It was Rip and Roxy's idea to continue volunteering after that first time. We asked, 'What about doing a bible study?' And Mountain Shadows said, 'Yes!' It had never been done before.
"Now, when Rip sees the residents in bible study, he hugs them, they hold hands, he wipes mouths if someone sneezes."
What does Missy believe accounts for the change in Rip?
"Being with the residents opened his eyes – all of our eyes. When we started the bible study, we thought we were going to help the residents, to teach the residents, but, instead, they have taught us!
"We have learned from them unconditional love. No matter who you are, no matter what you drive or wear, when you walk into the room, they love you – regardless.
"Recently, when I was sick and couldn't make it to bible study, Rip went and led the group all by himself! I look at that and say, 'This is awesome!'
"We started out thinking we would make friends with the residents of Mountain Shadows. Instead, we have turned into family.
"I remember one night during bible study, I got a call saying Rip was in a car accident. He was hit from behind. I had to leave in the middle of class. At the next bible study, every single one of the residents came up to me and asked how Rip was. 'Is he okay? I'm praying for him!' How special is that? They care for my family as much we care for them.
"We focus on one bible verse each time. We play games, we bring treats, we listen to music, we sing, we do prayer requests, we laugh together. But most of all, we all just enjoy getting together, being together. We look forward to saying, "How was your day?"
"The residents have so much love. They care so much. They give hugs. They put what they are going through aside to help others. If I've had a busy day, when I get to Mountain Shadows, everything else just goes away."
"Missy and her husband, Neville, and their whole family, are so committed and dedicated to providing a weekly bible study experience for our residents," adds Stacy Sullivan, Director of Operations, MSSG. "They rarely miss a Wednesday and have been coming to Mountain Shadows for many years. It doesn't matter how many residents attend the group, because they will stay for 1 resident. I have watched how extremely patient and kind they are to our residents."
Adds Vickie Perdaris-Torvinen, Activities Director, "The residents just drink up the atmosphere created by the Knowles. It lifts them up spiritually. They know someone cares about them. They show love, compassion, warmth, and give them a sense of security."
In addition to volunteering at Mountain Shadows, the Knowles have a printing company, Escondido Reprographics, through which they have contributed banners, signs, copies, posters, and other signage to our Annual Golf Tournament for many years. They also own an architectural foam business.
"I would like to thank Mountain Shadows for allowing our family to go to the campus each Wednesday to make friends. Our whole family is so grateful they allow us to do it.
"Each time my kids leave our home, I say to them, 'Make good choices. Make Jesus proud.' And that's what I try to do. If I make Jesus proud, everything else will work out."
We believe that Jesus is smiling now – Missy, Neville, Rip and Roxy – because your choice to become a part of our Mountain Shadows family, could only make Him proud.
To help Mountain Shadows residents continue to make an impact
with  their surrounding communities,  please click below.Stay Connected