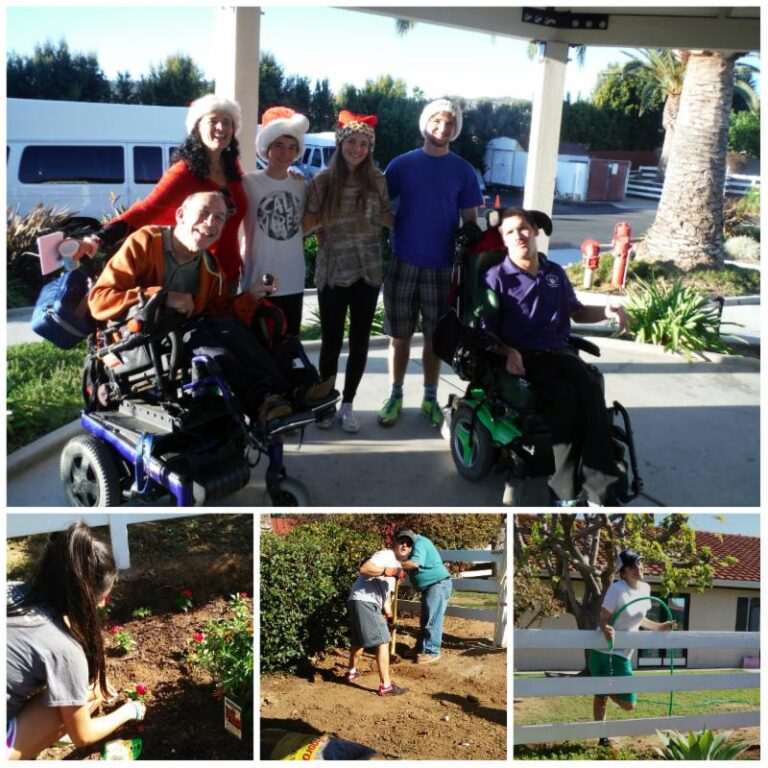 Valley High School Students Interact – With Love!
By Sheryl Wilde
"This is what we do – spread love and joy and kindness," says Monica Lee, Interact Club Advisor at Valley High School. "And it makes us feel good!"
The Interact Club has been spreading love at Mountain Shadows Community Homes for the last three years. The Interact Club is a Rotary-sponsored program with a mission to inspire youth, ages 12-18, to hone leadership skills while igniting a life-long passion to serve.
"Our Interact Club consists of 12 or so students that have committed themselves to helping out our community," says Monica. "When our students met the Mountain Shadows residents, they were blown away.
"One of our first projects this year was Garden Day. Last year, our school's woodshop class made several giant planters to donate to Mountain Shadows. Our Interact kids said, 'Let's give them plants too and make their gardens grow!' So we picked out beautiful, colorful flowers and vegetables to plant. Then, in January, we helped plant everything.
"Our students really enjoyed coming to Mountain Shadows. They saw the joy it brought to everyone – and our students left feeling really, really good. I couldn't believe they were so happy to plant flowers and seeds. Everyone was smiling.
"The Interact kids were so jazzed by Garden Day, they wanted to do more. In February, they created – on their own time – handmade valentines for Mountain Shadows. Then they hand-delivered the valentines with Peeps candy to everyone on Valentine's Day. Our students just loved bringing all the smiles and love to them.
"Then in March, our Interact kids asked if they could do something for Mountain Shadows during their spring break. These high school kids took time off during their break to do this! They were so stoked! They decided to teach how to make a safe, non-toxic slime, all the while teaching about polymers. It was all joy. And it was all their own idea to do this. They couldn't wait to go back to Mountain Shadows and do this!"
"The folks in the Interact Club are amazing," says Fred Lindahl, Development Director, Mountain Shadows Foundation. "Their group has performed several service projects for us at Mountain Shadows Community Homes – San Diego. They've helped us with landscaping, volunteered at our Halloween Carnival, sang carols to the residents at Christmas, and donated their time at our Spring Carnival. We are so grateful for all they do for us!"
"The Interact students love Mountain Shadows," adds Monica. "They are moved when they see the joy on their faces. And sometimes they are overwhelmed with emotion.
"These are high school students. And they are truly selfless, committed students who thoroughly love giving back. Sharon Clark, Interact Club advisor, and I are so proud of them."
"Our Mountain Shadows residents love the Interact students!" adds Vickie Perdaris-Torvinen, Mountain Shadows Activity Director. "Residents Kenny and Patsy love to interact with the students. Josh from Willow house is always there to supervise and watch over everyone. It's always a big event when visitors come to the campus. It helps our residents feel cared about – more a part of the community."
"These students have attended every Interact meeting and event – including all of the Mountain Shadows events: Yule Nanco, Jesus Cardenas, Elian Gaona, Evelyn Zamudio, Anayeli Clares, and Rusbelia Beltran. They are all seniors and are all committed to going to college. I truly believe they will continue this work on their life paths post high school graduation.
"The Interact Club has worked on several other projects this year – they did a Dixon Lake Clean-Up and MS Walk, an Oceanside Beach Clean-Up project, and sold t-shirts to raise money for pre-school scholarships in our community.
"Their biggest project this year was raising money for the Leukemia and Lymphoma Society. One of our Valley High students passed away from leukemia just over a year ago. He was a wonderful kid and, despite his disease, he was determined to graduate. He worked so hard. When he was too sick to come to classes, he studied online. It was heartbreaking, but he never gave up.
"On graduation day, the principal went to the hospital and took a picture with him in his graduation cap and gown. He passed not long after that. But he had achieved his goal. He was such an inspiration to everyone. The students set a goal of raising $1200 for the Leukemia and Lymphoma Society by selling flowers on campus. They were worried they couldn't do it. But they raised $1500!
"Our Interact Club wants to continue to foster a relationship with Mountain Shadows. Our goal is to perform selfless acts to bring love, joy and kindness to others. What better place is there to do this than Mountain Shadows? And our students receive love, joy and kindness in return!"
To help Mountain Shadows continue to transform the lives
of all those we serve please click below.
Stay Connected