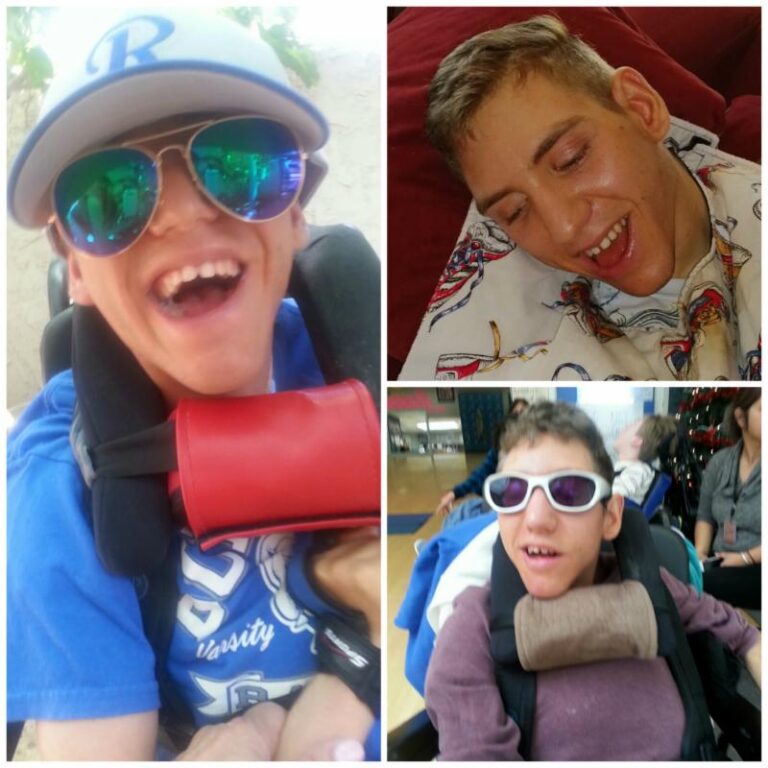 What Would Your Wish Be?
By Sheryl Wilde
"Sometimes we only see how people are different from us.
But if you look hard enough, you'll see how much we're all alike." ~Disney's Aladdin
If you had three wishes, what would they be?
Andrew listens to Disney's Aladdin – Broadway CD every night. "Andrew loves the Genie," says his mom Connie. "He loves the Genie's laughter and every time the Genie sings, Andrew just cracks up."
"Andrew has been coming to Mountain Shadows Outreach Services for about 2 years," says Flor Angel, Program Director. "He has cerebral palsy. He can't use his hands or arms. He can't speak. He needs a wheelchair and g-tube – but none of that stops him from having fun. He's such a happy man. He has one of the greatest smiles! And he loves music."
"Andrew loves Outreach," adds Connie. "My husband, Todd, and I, drive him from our home in Ramona to Outreach, and back again, every day. And every day when he arrives, everybody says, 'Andrew's here!!!' He loves that reception. Everyone recognizes him and talks with him.
"He loves all the artwork they do. He loves the reading room, and field trips – and especially the music. The San Marcos High School band came to Outreach and Andrew thoroughly loved that!"
"Andrew wants to be a part of everything at Outreach," says Flor. "He's developed a special friendship with one of the ladies. She's non-verbal too. But they spend time together. She walks over to him with her walker. They laugh and smile together. They listen to music together. They're very happy when they're together."
"Andrew has come a long way since he's been going to Outreach," adds Connie. "He's more mature. They encourage him to do new things. He's more responsive now. He emulates and learns from the others there.
"His favorite part of the day is riding in the van with us. Todd takes him to Outreach in the morning and I pick him up. He loves the ride – but not so much when I pick him up to take him home. He wants to stay at Outreach! He just loves it there.
"There is so much vibrancy and life that goes on at Outreach. They hi-five each other, they talk. Mountain Shadows arranges everything perfectly. I couldn't ask for anything better for Andrew."
In the Disney film, Aladdin discovers a mysterious lamp which hides extraordinary power within – a genie with the power to grant any wish.
You may wonder to yourself, "If I held such a magical lamp – what would my wish be?"
As for Andrew, as he gazes at the Genie's lamp with enchanted eyes, we may wonder what his wish might be. To walk freely on his own? To hold his mother in his arms in a loving embrace? To speak, and even sing, the words to his favorite Aladdin songs?
We may never know.
But as for us, we wish for just one thing. We wish for all to see the world, and all of its people, through the eyes of Aladdin, as he gazed down upon the Genie's lamp and was told:
"Do not be fooled by its appearance. Like so many things,
it is not what's outside, but what's inside that counts."
"We've learned so much from Andrew. He gives us unconditional love. He's a special guy. Andrew helps to ground us. He smiles. He laughs. He makes us pay attention to what's important. He doesn't know he's disabled. He's loved and happy. What more could a parent wish for a child?"

To help Mountain Shadows Outreach Services participants
like Andrew continue to have their wishes fulfilled, please click below.
Stay Connected