Join us online on Wednesday, April 29,2020
at:
MountainShadowsFoundation.org/2020MPOWR
for the 4th Annual M:POWR Virtual Art Exhibition!
Proceeds will benefit Mountain Shadows emerging young artists, like Carlos featured in the story below, in pursuing their dreams.
Mountain Shadows Resident Carlos Ash:
Destiny M:POWR'd Through Art
by Sheryl Wilde

Authors note: We introduced you to Carlos last week through the eyes of his teacher and mentor Dr. Joanne Tawfilis. Read the story below and learn, in Carlos' own words, how Mountain Shadows and the M:POWR project fueled his passion for art and painted the path to his true destiny.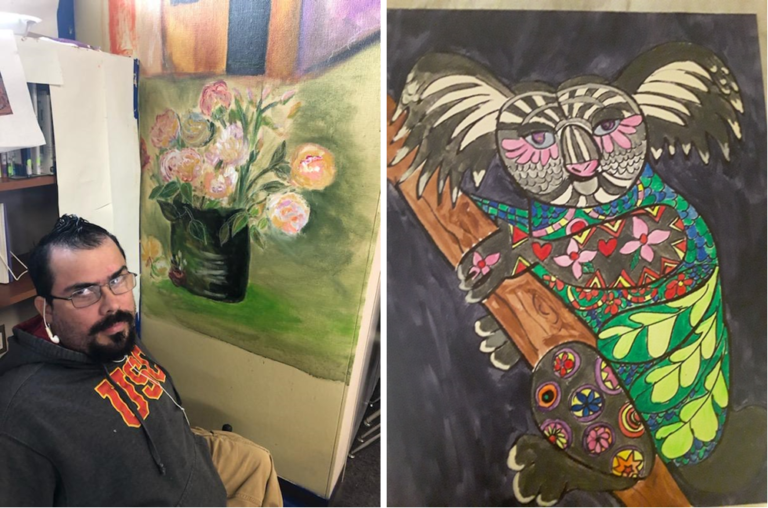 "The only person you are destined to become is the person you decide to be.
"~Rafiki, The Lion King
Up until about 8 years ago, the only time Carlos painted was when he had nothing else to do. Then he moved to Mountain Shadows and joined the M:POWR project. That's when he met Dr. Joanne Tawfilis, founder of the Art Miles Mural Project, owner of the Muramid Mural Museum and Art Gallery, and representative of the United Nations Educational, Scientific and Cultural Organization (UNESCO). And that's when his true destiny was revealed.
"That's where the artist in me came out," says Carlos. "That's where the passion to be an artist came to me. I've known art is my calling ever since."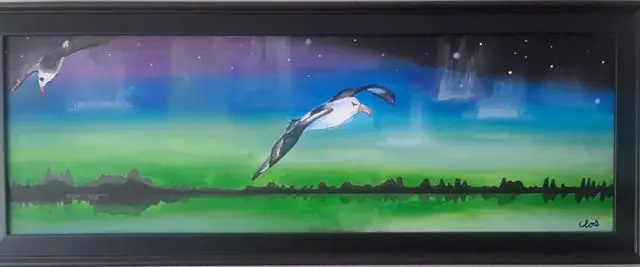 Carlos was born with spina bifida, a birth condition which means "split spine" in Latin. During development, in a baby with this condition, the neural tube (cells that form the brain and the spinal cord of a baby) doesn't close all the way, so the backbone that protects the spine doesn't form completely. In Carlos' case, he is paralyzed from L4 down due to this condition and uses a wheelchair. L4 is the fourth lumbar spine vertebra, located towards the bottom of the lumbar section, near the sacral vertebrae at the bottom of the spine. Like the other lumbar spinal bones, L4 primarily provides protection to the spinal cord.
"I don't let the wheelchair stop me. Whatever I set my mind to do, I do to the best of my ability.
"When the first Art Auction for M: POWR was done, I was the only artist to sell a painting to someone outside of Mountain Shadows.
"Joanne appointed me a Peace Paint Ambassador. I've been given t asks like presenting murals to the Long Beach Aquarium of the Pacific and soon will deliver a mural to the Children's Hospital in San Diego."
One of Carlos' first pa intings, and one of those he's most proud of, is of Rafiki, the wise, shamanistic monkey from The Lion King movie. His Rafiki painting won 1st Place in the 1st Art Auction for M: POWR competition.
"I want to make each painting my own. I make each one different and unique.
"Painting is calming. I like seeing the reaction on people's faces when they look at my art. I enjoy what I do."
Carlos shares a love of painting with his father. "My dad is my best friend. Seeing him makes my day better. We paint together every Wednesday, mostly abstract paintings.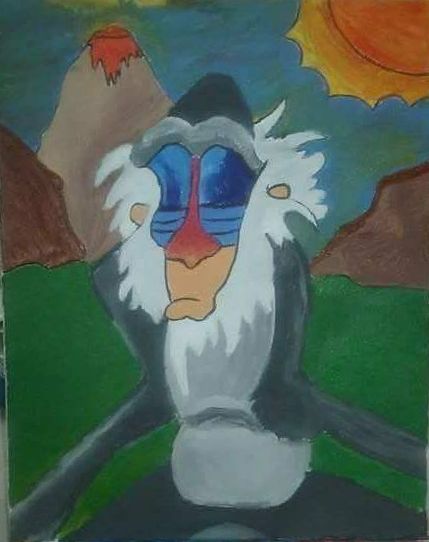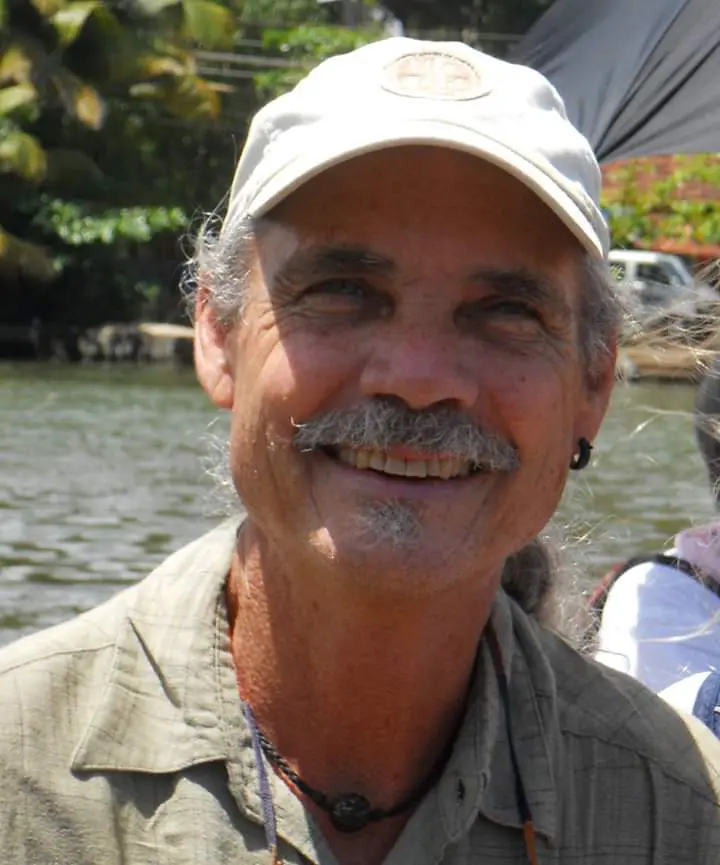 "I just am thankful for what I've learned and for what I've done over the past eight years. I'm always willing to help others. When I do, it makes me happy. I always try to go above and beyond to the best of my ability."

In addition to painting, Carlos played and coached a Little League baseball team for many years. "It taught me to be a team player. There's no "I" in "team." I live by that.

"I did Taekwondo for several years too. That taught me about loyalty and respect.

"I want to inspire people and put a smile on their faces, whether they've had a bad day or not. I believe I've been put on this earth to help others, not just think of myself only."This selfless attitude extends to his life at Mountain Shadows as well. "I help clients who can't speak for themselves. I was put here to help them out. "I'm grateful for knowing Joanne and for being a part of the M: POWR program. I'm thankful for her teaching me the art skills I have now. I don't know what I would do with myself, my life, without art.
As for the future, Carlos has big plans for his art. "One of the Mountain Shadows Board Members knows a news anchor at NBC. This news anchor has a passion for giraffes. I've painted two giraffes on canvas and hope to present them to her as gifts.
"I'm waiting for the day I get to meet her. It's one of the top things on my bucket list – being on the news with my art. I just know there will be another meeting after I give her my paintings and I'll be on the news.
"Who knows where my art career will go from there?"
"It's the Circle of Life and it moves us all, through despair and hope, through faith and love, until we find our place on the path unwinding."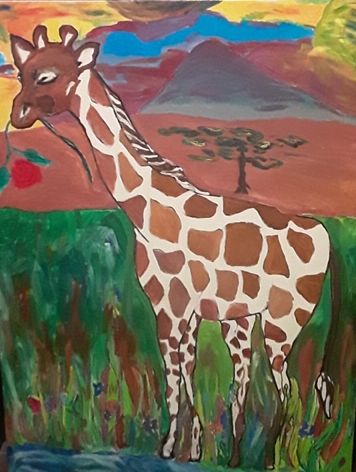 Carlos, you have found your place on the great path unwinding at Mountain Shadows – and we believe, along with Rafiki, that your art career is destined to be exactly what you decide it will be. And we hope to see you and your art on the NBC news soon!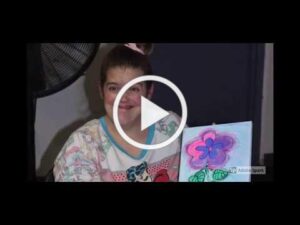 2019/2020 M:POWR Year in Review

When you donate to Mountain Shadows Foundation,
you help advance the programs and services of
Mountain Shadows Support Group and Mountain Shadows Ancillary Services,
and help individuals with intellectual disabilities thrive.
Stay Connected