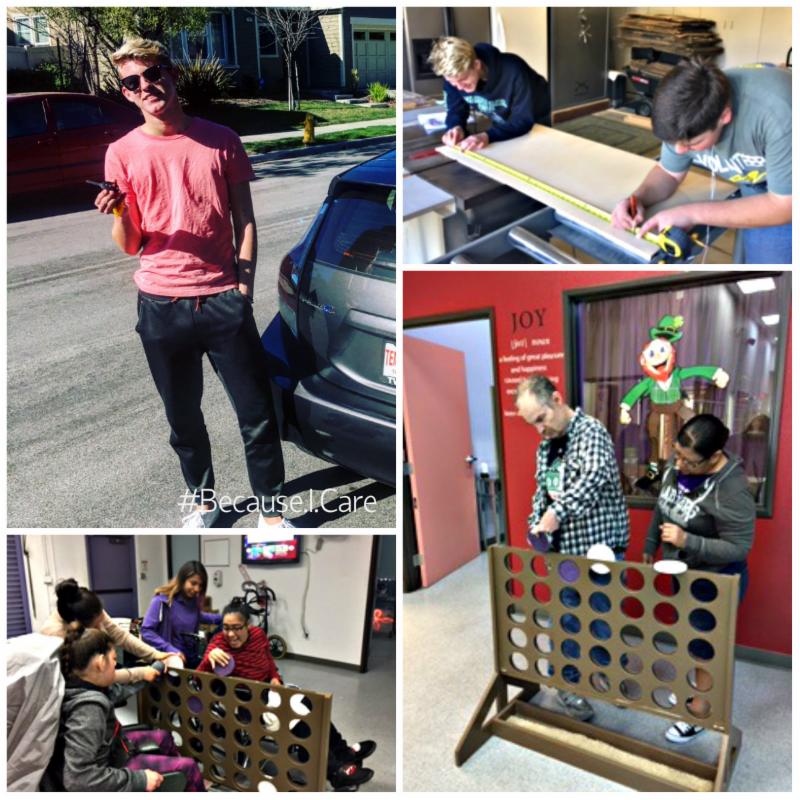 Eagle Scout Christian Bowen and Mountain Shadows Connect4 Fun
By: Sheryl Wilde
Connect4 is a vertical game of tic-tac-toe. Players take turns dropping colored discs from the top into a seven-column, six-row, vertically suspended grid. The pieces fall straight down, occupying the next available space in the column. The objective of the game is to be the first one to form a horizontal, vertical, or diagonal line of four discs. The first player can always win – Connect4 – by playing the right moves.
Christian Bowen, nephew of Pine House resident, Mark, loved to play Connect4 as a child. He spent many hours playing the game – planning winning game strategies, laughing, and just enjoying the time spent with his friends. Little did he know that his childhood pastime would lead to another kind of win in life."My uncle Mark loves Pine House," says Christian. "He lived in multiple care facilities before finding Mountain Shadows, and he didn't like any of them. Now, when we take him out for dinner, he always asks what his roommates are doing back at home. He wants to be back at Pine House with them. He enjoys being there. We are so thankful to have Mountain Shadows."
As do many young men his age, fifteen-year-old Christian is already planning for college. But, what sets him apart, perhaps, from many of his peers is his commitment to what he believes to be most important at this stage in his life: achieving good grades and staying close to God. The foundation of many of his character traits were cultivated in the Boy Scouts of America."I started in the Boy Scouts when I was seven-years-old. The Scouts taught me so many skills not learned in school. I feel more accomplished, well-rounded, from what I've learned in the Scouts."
Christian was recently awarded the rank of Eagle Scout, the highest designation attainable in the Boy Scouts. In order to receive this ranking, Christian was required to lead a project to benefit the community. His thoughts for a service project immediately turned to his uncle Mark and Mountain Shadows, the community he now called home.
"When Christian contacted us, offering to do a service project for us, we were thrilled," says Arlene Galvan, Director of Program Development, Mountain Shadows Support Group. "It's always difficult for us to find games that meet the needs of our residents and clients, so we thought that would be a perfect project for Christian.
"We did some research and agreed it would be a great idea to build a Connect4 game for our Outreach clients. We needed a larger version of the game, wheelchair height, so the clients could roll-up to it and play while in their wheelchairs. When we contacted Christian with the idea, he said, 'Oh yes! We can do this!'"
"It had never come to my mind to create a version of the Connect4 game for Mountain Shadows," adds Christian. "That I had enjoyed the game as a child made it that much more motivating, not only to create it, but to deliver the final product to the people of Mountain Shadows.
"The idea was to build a Connect4 game out of wood. It took 25 people 4 days to build it. We designed it, bought the wood, cut and painted it. And it worked! It looks cool. It's about 4 feet high, with larger discs so the residents can use it while in their wheelchairs."
"Christian and all of the Scouts did an amazing job!" says Flor Angel, Program Director of Outreach. "The clients love it! They play with it all the time. It's so fun for all of the clients.
"Mark especially is really excited about the game. He knows his nephew built it. He was so excited when Christian brought the Connect4 game over here. He was very proud of his nephew."
Staying connected – with friends, with family, with life – when you are disabled can be challenging. Mobility, mental, and physical differences can make simple things that many of us take for granted, like playing a game with a friend, more difficult.
Christian Bowen and the Boy Scouts made all the right moves. Thanks to their generous efforts, our Mountain Shadows Outreach clients can now Connect4 Fun – learning and laughing together – and connecting through the simple joy of play.
Horizontal, vertical, diagonal – whichever way you line it up – we'd say that's a big win for everyone.
To help Mountain Shadows Outreach clients like Mark
continue to live more fulfilling and active lives,
please click below.