Yes, I am bein' followed by a Moonshadow ...
Moonshadow ... Moonshadow
Leapin' and hoppin' ...
On a Moonshadow ...
By Sheryl Wilde
During a visit to a remote area in Spain, a young Cat Stevens stood quietly at the lake's shoreline. He had grown up on the West End of London, where the glare of streetlamps obscured the moon's light in the night sky.
It was there, in this remote area, that for the first time in his life, Cat witnessed the natural, unveiled brilliance of the moon, and its reflection upon the water. And as he looked down into the water, mesmerized, he noticed his own shadowy reflection.
The swirling shadow-image dancing upon the water's surface captured his heart and imagination, and thus, the inspiration for his classic song, "Moonshadow" was born.
While many of us may take for granted a walk on the beach, getting to the water's edge can be challenging for the disabled. But thanks to YOUR SUPPORT, and Camp Able, an aquatic summer day camp for disabled children and adults, our Mountain Shadows residents are able to experience magical sun-drenched days at Silver Strand State Beach in Coronado every year.
Swimming, sailing, canoeing, playing volleyball in the sand, and even singing around the campfire - everything that anyone else can do at the beach - is made accessible for special needs individuals at Camp Able.
Says Jenelle Nettles, Camp Director, "Mountain Shadows has been bringing campers to Camp Able for more than 25 years. The residents especially love song time. We've even created a special version of the song Moonshadow just for them!
Yes, I'm being followed by a MountainShadow ...
MountainShadow ... MountainShadow ...
Leapin' and hoppin'
On a MountainShadow ...
"It's super fun, and silly, and I just love seeing the looks on their faces when we sing it! They smile and laugh and clap their hands and scream."
Some, upon first hearing Moonshadow, believe it is a song of sadness and mourning:
If I ever lose my legs
I won't moan, and I won't beg
Yes, if I ever lose my legs
Oh, if, I won't have to walk no more
But Cat Stevens wrote the words of Moonshadow to express his belief that hope can be found in any situation. Every moment in life - and every individual - is precious and unique.
Our Mountain Shadows family shares this belief - and we encourage each and every resident to live their life to the fullest!
And if I ever lose my hands
Lose my plow, lose my land
Oh, if I ever lose my hands
Oh, if, I won't have to work no more
If I ever lose my mouth
All my teeth, north and south
Yes, if I ever lose my teeth
Oh, if, I won't have to talk
"I have so many wonderful memories of the Mountain Shadows residents," says Jenelle. "I always remember Charles, he comes every year, and he LOVES to boogie board! So I have many good memories of being out in the water with him, getting him on the boogie board - or attempting to get him on the boogie board!"
"Another one of my favorite things is watching the Mountain Shadows buses pull up to Camp" adds Jenelle. "As they start unloading off the bus, the residents are at the top of the lift, and I can just see their faces light up. As they come down on the lift, they are just so excited! So excited just to be there!
"Watching them get in the water, seeing them out of their wheelchairs and watching them get in a sailboat and sail! That's huge. It's very rewarding because it's not something they get to do all the time, some of them have never even been to a beach before!
"It's a special, special thing. And they are getting to do something many of us take for granted, but it's something maybe they didn't think they would ever be abie to do.
"But I think the most fun for everyone is Song Time and the MountainShadow song. They really like it and love singing along. It's their special song! And the music - the song - no matter what the residents' disabilities are, the music is something that touches everybody."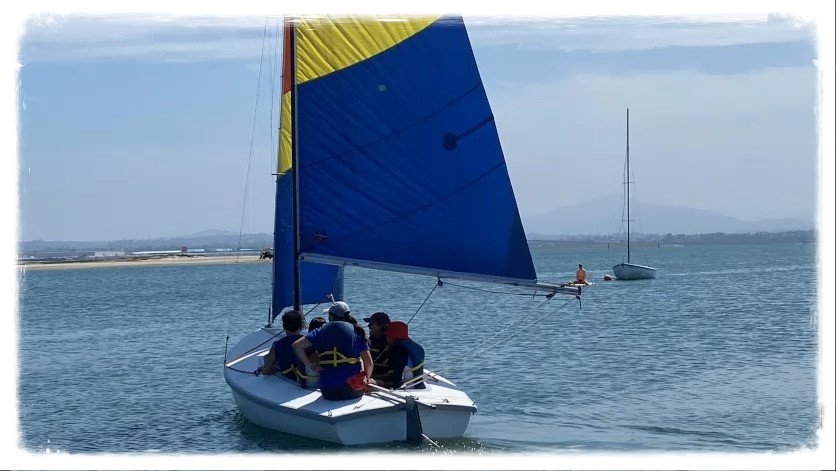 Yes, I'm being followed by a MountainShadow ...
MountainShadow ... MountainShadow ...
Leapin' and hoppin'
On a MountainShadow ...
The Mountain Shadows Foundation -
Leapin' and Hoppin'
On a MountainShadow...
Because We CARE
Thanks to YOUR SUPPORT, the Mountain Shadows CARE program provides recreational and social experiences to residents, like going to Camp Able, adding meaning and richness to their lives.
It's easy for you to help us continue to provide activities like this - activities that improve the quality of our residents' lives - and keep them leapin' and hoppin' in fulfillment of their dreams. Here are some ways you can help ensure these crucial activities can continue for years to come:
Make a one-time donation today by clicking on the donate button below.

Make a monthly or annual contribution.

Leave a Legacy Gift.
To learn more about the Mountain Shadows Foundation Legacy Society, to include us in your estate plan, or to let us know if you have already designated Mountain Shadows to receive a legacy gift, please contact Mandy Huiras, Director of Development at: mhuiras@mtnshadows.org, or visit our website by clicking here:
Learn More About the Mountain Shadows Foundation Legacy Society
Please share this story with your family, friends and co-workers to help grow our Mountain Shadows Family!
Mandy Huiras
Mountain Shadows Foundation
Director of Development
Contact Mandy today to learn more about the Mountain Shadows Foundation and how you can make a difference in the lives of our residents:
Our Contact Information
*{{Organization Name}}*
*{{Organization Address}}*
*{{Organization Phone}}*
*{{Organization Website}}*

*{{Unsubscribe}}*